I have a 1920s house with a dry, block basement. I'm thinking of insulating and finishing it, but hesitant about the ceiling. I have a high-efficiency furnace, but the old-style heat runs with foil-faced cardboard between the joists, serving as cold air returns. This area has a lot of other electrical and plumbing obstacles in the way.
I have found fire-rated faced batt insulation. Would it be legal to insulate my basement ceiling with it? Alternately, I'm thinking of just insulating with R-11 Kraft faced, and covering it with straight-edge ceiling tile (2″ x 4″) fastened directly to the joists.
Answer: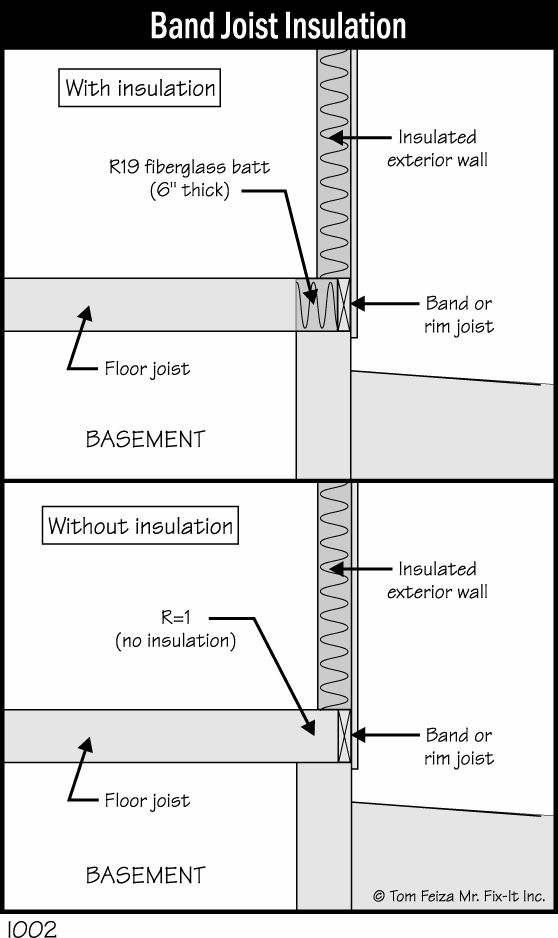 When finishing a basement there is little reason to insulate the ceiling, except to deaden sound transmission through the floor. The upper and lower level will be about the same temperature, so insulation is not needed between the floors.
You should however insulate outside walls. Pay particular attention to the area above the foundation wall to the floor framing. This is an area with a lot of potential for air leaks because of all the framing joints. The best insulation and sealing would be spray-foam from the top of the basement wall, over the sill plate, on the band joist, and to the subfloor. Check with your local code officials for their requirements.
I am not aware of any fire-resistant rated fiberglass. You can't use a paper or Kraft faced fiberglass because the paper is flammable. Don't insulate between the floors; it is a waste of materials and time.