We all need to be aware of possible safety concerns with overhead power lines. If you ever see a power line – or what you may think is a power line – on the ground or in an area where folks can touch it, call your local utility.
Take a quick look at the electrical line feeding your home. It may be underground. Don't dig a deep hole (to plant trees, for example) without contacting Diggers Hotline to locate underground wires and utilities.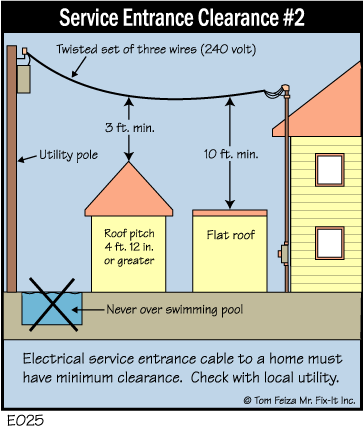 If your home is fed by overhead wires, they should be at least 10 feet above any walking surface and 12 feet above a driveway. If your home has a pitched roof, overhead wires should be at least 3 feet above the roof. Make sure there is sufficient clearance to any window or raised porch. Electrical wires should never be run over swimming pools.
These clearances are mandated so people are never exposed to the wires, and also to keep the wires from being struck by tall trucks and other vehicles. You should never be able to reach out and touch a wire.
Sometimes clearances become a problem because of home improvements. We all add porches, deck and pools around our homes, and often folks don't think about the overhead wires when making these changes. Any home inspector will tell you about finding hazards related to electrical wires.
By Tom Feiza, Mr. Fix-It
Copyright 2013 by Tom Feiza, Mr. Fix-It, Inc. | misterfix-it.com | htoyh.com
Helping you operate and maintain your home