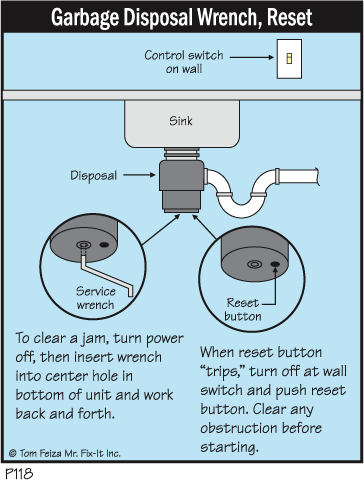 Dead garbage disposal? Usually, it's easy to bring this gadget back to life. Take a look at the illustration and follow these simple steps.
Does the disposal "hum" when the switch is on? If not, most likely the problem is a tripped overload in the disposal. Turn the wall switch off. Look under the disposal and locate the reset switch — a little button recessed within a hole toward the side of the housing. Push the button, and the disposal should at least hum when you hit the wall switch. It may also come up to speed.
If the disposal hums but the blades don't spin, you can use a service wrench to loosen up the motor. You'll probably find the disposal's service wrench stored in a small plastic sleeve below the sink. It will look like a hex wrench with two angled ends. If you can't find your wrench, purchase one (they're inexpensive) at the hardware store.
With the power off (no hum), place the small hex wrench in the center hole at the bottom of the disposal. Twist the wrench back and forth to free the impellers. Remove the wrench and hit the switch — yeah!
By Tom Feiza, Mr. Fix-It