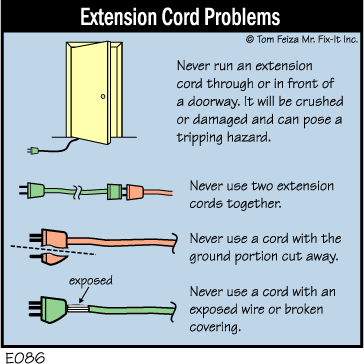 You should view extension cords as a necessary evil. Avoid using them. If you must use an extension cord, use a heavy duty cord with a sturdy plug and outlet. Make sure the cord is in good condition.
Some basic rules:
Never run an extension cord through a doorway where it could get damaged.
Never run an extension cord under a rug where it can't be seen and could overheat.
Never run a cord where it could present a trip hazard.
Never use two extension cords end to end – you just double the risk.
Never use a cord with exposed wires or a loose plug or outlet.
Never cut or modify the cord or connectors.
For appliances like washing machines, toasters or hair dryers, don't use an extension cord, period. Have an electrician install an outlet near the appliance so a cord is not needed. These appliances use lots of energy and can overheat an extension cord.
All permanently installed appliances – a garage door operator or sump pump, for example – must have an electrical outlet nearby so an extension cord is not needed.