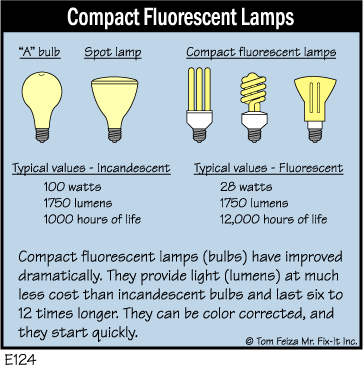 OK, for many years compact fluorescent lamps (CFL) were a bit of a pain. They provided an eerie color, took a long time to reach full brightness, never worked outdoors in cold weather, and failed early.
Most of those problems have been solved in the last 20 years. Now it's hard to resist these lamps, which provide the same amount of light as incandescent lamps for about 25 percent of the energy cost. They also generate about 75 percent less heat inside an air-conditioned space, which is important in areas where air conditioning is used often.
They are color-corrected to provide a natural color. When you purchase the lamps, look for the "warm white" or "natural" color notation on the packaging. The color-corrected CFLs really do have great color. They're available as spotlights and floodlights, and there are special versions for circuits with light dimmers. The bulbs are small enough to fit in most household lamps and fixtures.
If you do the energy calculation, you'll see there is a great payback for substituting CFLs over incandescent bulbs. They also last about six to 12 times longer than incandescents.