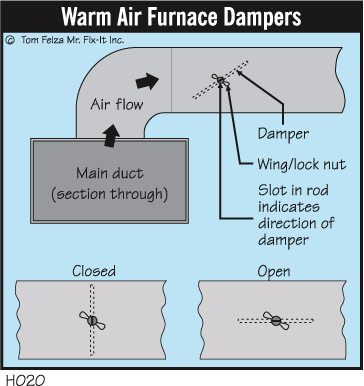 Does your home have one room that's always cold? Is there very little air flow from the heating grill, even when it is fully open? The culprit may be a heating supply duct that's been closed.
In the basement, find the main warm-air supply duct, which originates directly above the furnace. Often this is a rectangular duct running down the center of the basement. It may branch off into smaller circular ducts serving individual room registers.
Where the round duct attaches to the rectangular main, look for evidence of a duct damper: a wing nut around the end of a quarter-inch threaded rod. At the end of the rod, you'll see a screwdriver slot.
If this slot is perpendicular to the small round duct, the damper is closed. If the slot is parallel to the duct, the damper is open. You can loosen the wing nut and change the position of the damper. Then secure it by retightening the wing nut.
If opening the damper solves the problem, great. If the room is still cold, you may need to partially close other dampers to direct more air to the cold room. Often, dampers fit loosely, and even when fully closed, they can leak lots of air.
By Tom Feiza, Mr. Fix-It