How do you make an old wood fireplace energy efficient and prevent heat-loss? Can you use a wood stove insert in the existing fireplace? I have a half-cord of wood remaining, but hardly use the fireplace since it's so inefficient and sucks the heat out of the room.
Answer: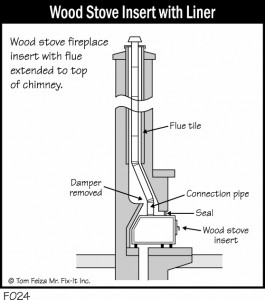 You got it, a masonry, wood-burning fireplace is only good for wasting heat up the chimney. While the ambiance is great, an old wood burner will not help heat your home.
A wood burning insert will certainly improve the situation and provide some heat. But, you need a special installation/liner and you also need to routinely clean the flue. The combustion gas moves up the flue at a much lower temperature, and more deposits form.
Your best bet is a gas-fired, sealed insert that is vented with two pipes up the old chimney. This has an air intake and sealed combustion so it does not draw any air from your home. It is a true heating appliance. They look great too.