QUESTION:
We have a new home. With the cold, windy weather, we have noticed frost on the screw heads in the drywall garage ceiling edge. This issue is on the north side; none of the other walls have this problem. The garage is unheated, and the walls/ceiling are insulated. There is also a vapor barrier over the insulation. My husband says cold air is coming through the outside soffit, and there is no way to insulate this. There is also an electrical switch with frost on the screw heads on that wall. What can we do? Should we be concerned?
SHARON
ANSWER: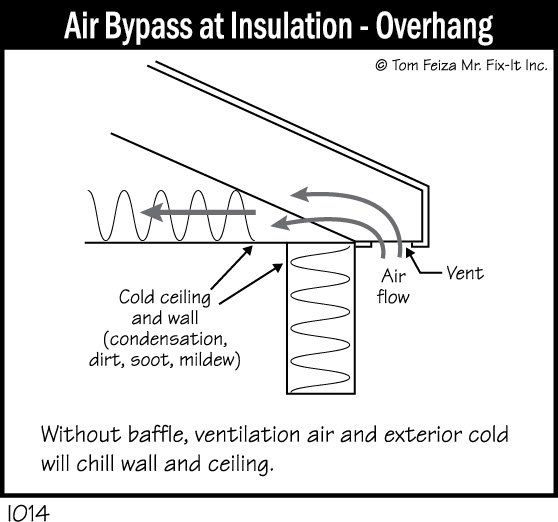 The problem is caused because the screw heads are colder than the dew point temperature in the garage. In fact, the screw heads are below freezing so the moisture condenses and freezes. You have two solutions – raise the temperature of the screws or reduce the relative humidity in the garage.
Assuming you don't want to raise the temperature in the garage, you can try to raise the temperature of the screws. I think your husband is correct – cold air is leaking into this wall area, either at penetrations, gaps, or through the roof venting. The cold air blows in and cools the wall.
For the attic venting, you should check above the soffit vents and make sure there are air chutes that direct the ventilation air over the insulation. If it blows into the side of the insulation, it will chill the wall. At times the best solution is to seal the air chute from the top of the wall to the roof deck with spray foam insulation. You want the air flowing over the insulation.
You should also look for any exterior gaps that may need sealing – perhaps around light fixtures, at the lower edge of the siding and around windows and doors. Any penetration in the wall and house wrap is suspect.
You could heat the garage; that would solve the problem, but I don't suggest that. Lowering the relative humidity in the garage is virtually impossible, however you could sweep out snow and ice that may drop off your car.
MR. FIX-IT