QUESTION
We have a new clothes dryer. We placed a bag that was wet from window cleaner on the top of the dryer. One of my kids inadvertently put something on the bag and it left an orange stain on the top of the white clothes dryer. I tried to rub it off with a gentle cleanser but to no avail. Is there anyway to get this orange colored stain off the top of my clothes dryer?
-ROSEANN
ANSWER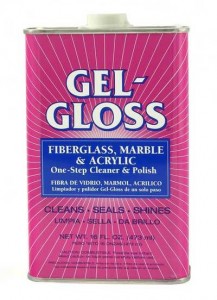 That is a strange happening! I would try the classic stain removers – Lift Off, Oops, Spot-Shot or Goof Off. They should not harm the finish and they remove most stains. You could also try Gel Gloss – it is a cleaner and a polish with a very fine abrasive. Rub the Gel Gloss on the stain to remove it.
Gel Gloss will dry to a white powder and when buffed off, it leaves a nice shine on hard surfaces such as synthetic shower stalls, faux marble, plastic laminate and enamel paint. It is a great product for "restoring" plastic laminate counter tops.