(For more information, see the article Wood Finishing and Repair)
QUESTION:
We built our house six years ago. In some areas the woodwork looks dried out, especially in the bathrooms. The woodwork has never looked very shiny. It's almost like it wasn't properly varnished to begin with. Is there any type of product that I could wipe on to repair this dried out look? I did see a product offered over the internet called 'Restorz-It'. Do you know anything about this product? I was hoping for an easier solution than sanding and re-varnishing the woodwork. I appreciate any help you can provide.
–KIRT
ANSWER:
In most newer homes today, the clear finish is a spray-on lacquer. This is done because lacquer is very clear, durable, attractive and dries quickly. If your finish has always been dull, perhaps they only applied one coat or it was a satin finish. Unfortunately, lacquer is difficult to repair. We "do-it-yourselfers" don't use spray lacquers – 25 years ago oil based varnish was brushed on as a finish coat in homes.
There is no easy way to correct the dried out look. I don't know anything about the product you mention, but I suspect it may be one of those too-good-to-be-true products.
Your best bet is to clean and dull the finish with a liquid sandpaper solvent or wood cleaner. Most of these products are a strong, oil-based solvent. You scrub the surface with steel wool, or synthetic steel wool. Once the surface is clean and dull, you can try a wipe-on oil clear coat finish.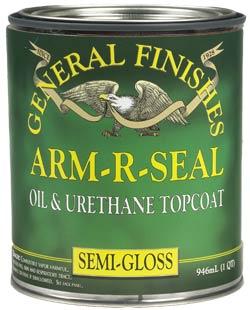 For a clear coat, I suggest General Finishes Brand, Arm-R-Seal. This is a wipe-on oil finish that will stick to most existing finishes. It comes as a semi-gloss or gloss, and is applied with a rag. It is low odor, dries quickly, and is very durable. General Finishes makes a finish cleaner to prep the surface.
A second excellent finish to try is ZAR Brand Ultra Max – waterborne oil-modified polyurethane. This finish is also applied with a rag and is a satin or gloss finish. It is quick drying and durable, plus water based so limited odor. ZAR also makes a cleaning, surface prep product.
With either finish, you need to test a small area first. There is always a potential the new finish may not stick to the existing clear finish and you should experiment with the look of the finish. For preparation, if you don't like to scrub with a solvent, you could lightly sand the surface with fine sandpaper. The surface must be roughened for the new surface coat to stick.
Good luck – nothing really easy here. The "oils" that restore wood don't work.