Question:
Hi, I live in a Franklin, WI condo with a finished basement (rec room). During the summer we run a dehumidifier. Is it necessary to run it during the winter months? We have no moisture problems. Thanks.
-Pat
Answer: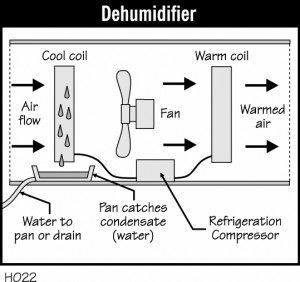 Sorry, but there is no simple answer to this. It depends on the moisture balance in your home and if the lower, finished level is connected to the central heating system.
I would anticipate that with a newer condo and a finished basement, you don't need to operate a dehumidifier. I assume the space is connected to the forced-air furnace, so basically the moisture level in the lower level will be the same as the upper level. Moisture will move quickly through the forced-air heating system.
-Tom