Question:
Where can I find someone who can tell me if I need more insulation in my attic?  I'm afraid that if I go to an insulation company they will say I do, when I really don't.
-Ruth
Answer: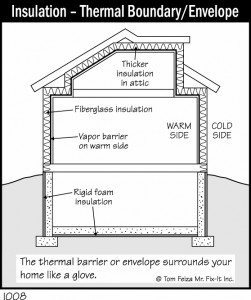 The question should really be where can I make energy efficiency improvements that save me the most money. While insulating the attic is often high on the list, what about the furnace, basement sill plate, etc.?
I suggest you have a energy evaluation by a Focus on Energy Consultant (800-762-7077). The consultant will review, test your home, and establish a priority list for improvements. I think it's a great deal.
As far as the attic, you need about 12 inches of insulation (about R-38). More is better, but may not always provide a payback. See my website article at the Free Articles page titled Insulate Your Attic – But Don't Stop There. It will explain insulation and air sealing. The air sealing is more important than the insulation.
-Tom